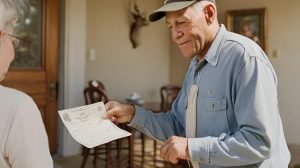 Starting in January, there will be a 3.2% cost-of-living adjustment (COLA) for 2024. This means that benefits payments are set to increase. The purpose of COLA? Simply put, it's to help retired military personnel and veterans keep pace with inflation. Now, while every boost is welcomed with open arms, it's worth noting that this 3.2% is a decrease from the 8.7% we saw in 2023 and the 5.9% back in 2022. Those hikes were primarily attributed to the inflation surge post-coronavirus pandemic.
In real numbers? For every $1,000 in pension payments a retired veteran receives monthly, there's an increase of about $32. The Social Security Administration also highlighted that, on average, Social Security retirement benefits will jump by over $50 per month. So, for many, this increase, albeit smaller than previous years, is still a positive change.
A Historical Perspective
To put things into perspective, apart from the notable spikes in 2022 and 2023, this 3.2% COLA for 2024 is the highest since 2011. That was a year when America was bouncing back from the Great Recession. If we turn back the clock a little further and look at the numbers between 2012 and 2020, the average COLA increase was just 1.4%. Moreover, spanning the past two decades, the average sits at around 2.5%. With that context, the 3.2% boost for 2024 isn't so bad, is it?
Behind the Numbers: Inflation Trends
So, why this number? Why 3.2%? Well, it's tied to the Consumer Price Index (CPI), one of the top federal measures for inflation. Recently, the CPI showed a price increase of 3.7% over the past year. If we compare, during the height of the pandemic in mid-2022, it was shooting past 9%. Though the current inflation rate still exceeds the Federal Reserve's 2% target, it's substantially lower than what we've seen in the recent past.
Legislation and Predictions
Interestingly, earlier this year, Congress gave the green light to the Veterans Compensation COLA Act. What this entails is that the Department of Veterans Affairs is obligated to match the same COLA as the Social Security Administration. This ensures that benefits for service-disabled veterans and families of fallen service members are taken care of, keeping in line with national standards.
The Senior Citizens League, a group that champions the cause of senior citizens, had indeed predicted this 3.2% COLA increase for 2024. According to their projections, an average retiree benefit of $1,790 would see a rise of $57.30 monthly.
Uncertainty Looms: The Big Government Funding Question
While the COLA has been set, there's another pressing issue on the horizon. Congress is racing against the clock. They have roughly a month to greenlight full government funding for 2024. If they don't, there could be potential disruptions, including possible furloughs at the Social Security Administration. The silver lining? Even in such a scenario, benefits payments to military retirees and other recipients should remain unaffected.
Concluding Thoughts
As we wrap up, it's essential to reflect on the broader picture. While the 3.2% COLA may not seem like a massive leap, especially when compared to the previous two years, it's still a step in the right direction. After all, every dollar counts, especially in these times of fluctuating economies and unforeseen challenges.
Stay updated with Military.net for more insights, news, and analyses tailored for our military community. Here's to a prosperous 2024 for all our veterans and their families!